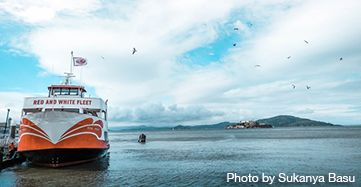 A great way to "sea" the city
Bay cruises are one of San Francisco's most popular tourist activities, and it's no wonder why. Besides the fun of traveling by boat, bay cruises offer extraordinary glimpses of the city and its bridges, as well as access to nearby attractions like Alcatraz Island and Angel Island.
There are several bay cruise companies in San Francisco, each of which offers a unique way to experience the city by boat. Companies like the Blue and Gold Fleet and the Red and White Fleet offer more traditional ferry tours of the bay, while companies like Adventure Cat Sailing Charters and Bay Voyager offer tours by catamaran and rigid inflatable boat (RIB), respectively. Each provides extensive sightseeing tours that cover such renowned San Francisco landmarks as Pier 39, the Marina District, Coit Tower, Treasure Island, and the WWII Liberty Ship and Submarine.
In addition to standard sightseeing tours, many bay cruise companies offer one-of-a-kind boat tour experiences. Take the Blue and Gold Fleet's Escape From Alcatraz tour, on which guests are told chilling tales of Alcatraz escape attempts and accounts of life on the Rock. Then there's the Red and White Fleet's Bridge 2 Bridge Cruise™, which takes passengers under both the Golden Gate Bridge and the Bay Bridge as they survey the entire San Francisco skyline. Most bay cruise companies also offer sunset tours that provide an intimate glimpse of the city as it lights up in the evening.
Additionally, most bay cruise companies offer special and private event cruises. The larger, ferry-based companies typically hold exclusive cruises on holidays like Valentine's Day, Independence Day and New Year's Eve, as well as offer private bookings for events like weddings and company parties. Those looking for something on a smaller scale have the option of booking a private catamaran or RIB cruise.
Whether you're looking for a general tour of San Francisco or are interested in something more specific, a bay cruise experience is sure to deliver a boatload of fun!